How Much Is a Tulip Bulb Worth?
Well, I can tell you unequivocally, a tulip bulb is worth whatever a buyer is willing to pay.
I bring it up this morning as I've tweaked the layout of this blog and added the tag line in the header:
8 Fat Swine, 12 Fat Sheep, 2 Hogsheads of wine…
This comes from a long list of items someone once paid for a single tulip bulb during the mania. Mackay published the full list in Extraordinary Popular Delusions and the Madness of Crowds, a book I highly recommend.
Mackay copied the full list from Munting, an industrious author living in 17th century Amsterdam and it always resonated with me.
I thought of it again recently as I happened across an academic paper written by Mark Hirschey entitled How Much Is a Tulip Worth?
Hirschey publishes the list but adds a column listing what each item is worth in 1998 US Dollars.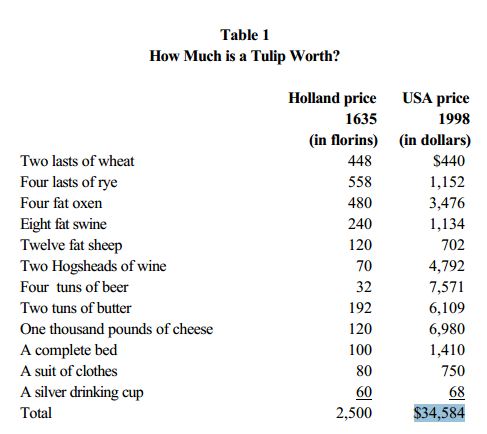 That's 34k$ for a single bulb at the height of tulipmania. Nice.
I always loved the list because it was a vivid and poetic reminder to me of two things:
1. Value is relative.
2. Markets will remain, to widely varying degrees, irrational as long as humans are involved with them.
Now here's a listing from Michigan Bulb dot com, one of hundreds of websites that sell them.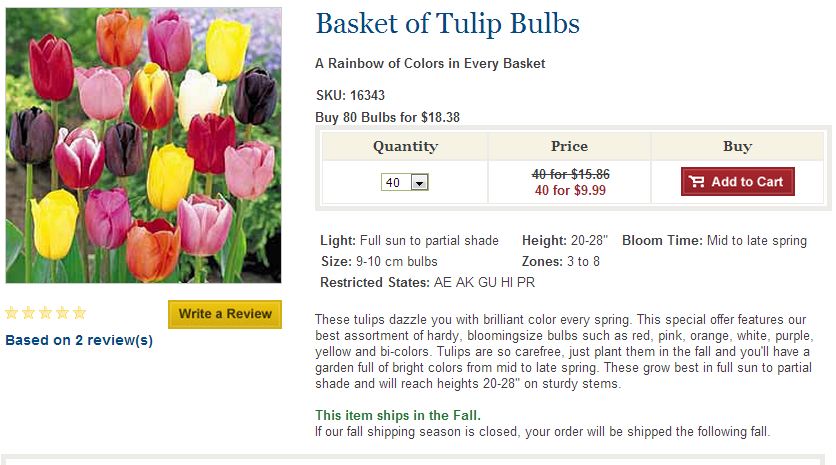 40 for 9.99$
That's just less than a quarter a piece.
The information in this blog post represents my own opinions and does not contain a recommendation for any particular security or investment. I or my affiliates may hold positions or other interests in securities mentioned in the Blog, please see my Disclaimer page for my full disclaimer.
blog comments powered by

Disqus
Phil is the executive editor of StockTwits and an investor in the company. He is a partner at Social Leverage, LLC and makes early stage investments in web based companies. (More)

Archives