The Anticipation and the Reality of Correction Shrinkology
I do not know which to prefer,
The beauty of inflections
Or the beauty of innuendoes,
The blackbird whistling
Or just after.
- Wallace Stevens
I have been underinvested since February options expiration when many of my longs were called away.
I have been through this many times before and have learned to be patient but it can be difficult.
Even during the most bullish periods, markets correct.
In 2006, for example, the $SPX returned 14% but corrected 8% in May and June taking the index into negative territory for the year before a double bottom and rip from July into December.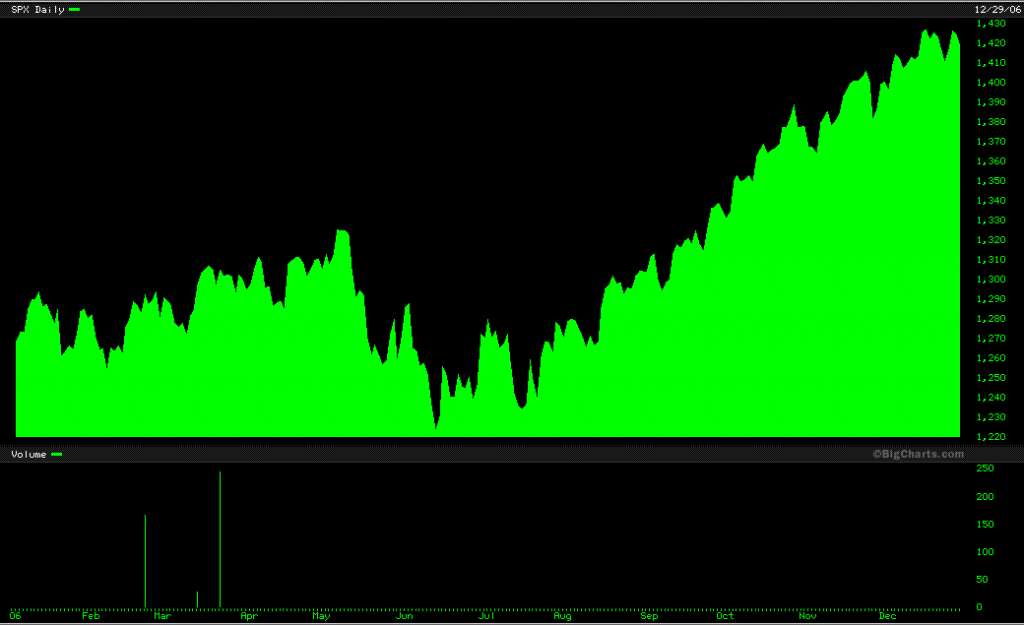 My sense is that a few short weeks ago, many who perceived themselves as underinvested were feeling regret and anxiety related to missing the move and were highly anticipating a chance to get in on the dip.
And I am not just talking about retail here so don't tell me about 'smart money'.  Hedge funds underperformed in 2011 and way underperformed Q1 2012 and so I am sure they are torturing themselves too and tighter than Tiger Woods yesterday at Augusta.
Here's the gist though and the thing that makes this difficult.
Experience changes based on the situation.
Let me just say that again.
Subjective experience changes with the situation.
So, those pining for a correction and eager to somehow get in lower during a rising market situation are now having a very different experience as the market might be correcting.
Here's how experience changes on 3 levels of psychological experience as the market shifts from bull to corrective mode.
Cognitive Focus Changes
Focus of attention shifts. In a rising market, those underinvested will attend to the price behavior of the winners. This is one of the reasons why everyone has been so obsessed with all things $AAPL.
Many will also focus on those who are outperforming and compare themselves unfavorably in that context.
As the situation shifts though from bull to correction, attention also shifts from missed winners and those few outperforming to the stories that have a bearish tinge such as yesterday's NFP. They begin to seek out what else is and could go wrong.
Emotions Change
As mentioned above, the dominant emotional experiences for the underinvested during a bull phase are regret and anxiety related to underperformance.
As the market begins to correct though, emotions might shift more towards a fear of losing as underinvested does not mean 100% cash. In the present macro environment and given the conditioning of the last 10+ years, fears of financial doom might also creep in.
Behavior Changes
For those underinvested, market behaviors might include chasing large moves higher or not buying smaller pull backs.
As the situation shifts from bull to correction, behavior might also move towards non action (or hold) as the cognitive and emotional shifts described above begin to shade market behaviors.
What I have outlined above are rough 3 dimensional (cognitive, emotional, behavioral) psychological profiles of underinvested investors during 2 situations.
The shifts in the profiles emphasize the reason why the plan one anticipates during a bull phase may not be followed through upon once the change in the market actually manifests.
I have no advice for those who find themselves in this spot and those who do give advice often do not fully recognize the discount at which advice trades for good reason.

I'm just outlining the experiential shift spurred by a situational change in the market from bull to correction.
What you choose to do with the information is of course up to you.
The information in this blog post represents my own opinions and does not contain a recommendation for any particular security or investment. I or my affiliates may hold positions or other interests in securities mentioned in the Blog, please see my Disclaimer page for my full disclaimer.
blog comments powered by

Disqus
Phil is the executive editor of StockTwits and an investor in the company. He is a partner at Social Leverage, LLC and makes early stage investments in web based companies. (More)

Archives