Global Social Network Consolidation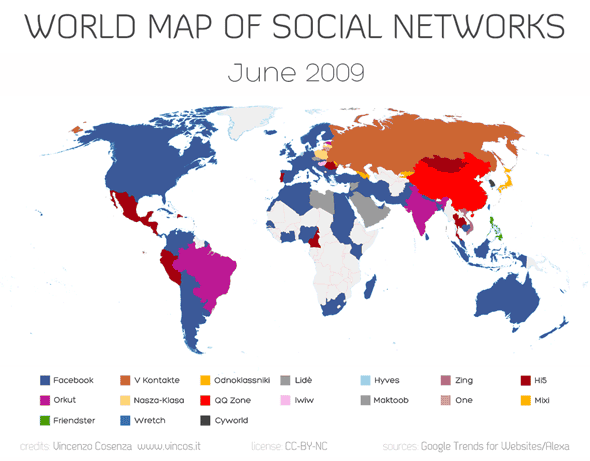 The above gif comes from the Vincos Blog and shows the dominant social network by country across the globe from June 2009 to December 2012.
Note the consolidation in the number of dominant sites over the 4 year period from 17 to 5.
Facebook has now established its leadership position in 127 out of 137 countries analyzed. As social media moves from infancy into adolescence  this pattern is important to note as it follows a similar trajectory to other industries throughout history. You can use search as an earlier example.  At first, a large numbers of smaller players vie for position and as time goes by, a smaller number of the most successful ones come to dominate.
My guess is that we are also observing a consolidation across more specialized, vertical, networks such as LinkedIn for professionals and Yelp for recommendations.
Good news for the leaders.
The information in this blog post represents my own opinions and does not contain a recommendation for any particular security or investment. I or my affiliates may hold positions or other interests in securities mentioned in the Blog, please see my Disclaimer page for my full disclaimer.
blog comments powered by

Disqus
Phil is the interactive editor at Yahoo! Finance. Formerly, he was the executive editor at StockTwits. He is a partner at Social Leverage, LLC and makes early stage investments in web based companies. (More)

Archives